Welcome to Kevorky's Kosmos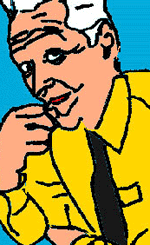 On June 10, jury selection began for the trial of Jack Kevorkian in Ionia, Mich. As Ragged Edge went to press, disability activists were planning what organizer Bob Liston called a "possibly very long action going until the end of the trial." Liston was expecting NDY activists from around the nation to camp out In Ionia and protest outside the courthouse daily.
Kevorkian is again on trial -- on assisted suicide charges in the Aug. 30, 1996 death of Loretta Peabody, 54, of Ionia, who had multiple sclerosis. Prosecutor Raymond Voet believes she died from a heart-stopping injection of potassium chloride. Peabody's body was cremated without an autopsy, but authorities have a videotape on which Peabody discusses suicide with Kevorkian. Kevorkian has been implicated in over 50 deaths of since 1990. The trial in western Michigan's Ionia County will be his first legal battle outside the Detroit area.
Originally, Kevorkian was to be tried with Janet Good (see Ragged Edge, Jan./Feb. 97), who has assisted him in a number of deaths. But Prosecutor Raymond Voet dropped charges against Good when a judge (at the request of Kevorkian attorney Geoffrey Fieger) ruled the two must be tried together. Good, 73, says she's been diagnosed with terminal pancreatic cancer. Voet dropped charges against Good rather than have the two appear before a jury together, fearful a jury might be swayed by sympathy due to Good's pancreatic cancer. Voet has said that Kevorkian has successfully played ``the sympathy card" in previous trials. The former pathologist has been acquitted in three Detroit trials covering five deaths.
'Very Still Life' -- nice name!
May 27 was the official release date of "A Very Still Life," a jazz CD subtitled "The Kevorkian Suite." Of the 12 tracks, 11 are original compositions or arrangements by Jack Kevorkian, who also plays flute and/or organ. On many of the cuts, Kevorkian is accompanied by a group called the Morpheus Quintet, playing piano, bass, drums, trumpet & sax. The initial 5,000-CD edition is billed as a limited edition, and is stickered with a notice that "$4.00 from each disc sold will go toward the building of Kevorkian's first patholoysis clinic, a safe haven for physician-assisted suicide."
A Lucid Records press release calls the music "a mercurial blend of near- classical melodic lines and harmonic structure irresistibly juxtaposed against contemporary rhythms in the tradition of Monk, Mingus and Baker." The album, with a list price $18.95, is reportedly available from all the big record chains.
Guess he liked the name. "A Very Still Life" was also the name of his exhibit of 13 oil paintings that opened in March in Royal Oak, Mich. "depicting severed heads, mouldering skulls and rotting corpses," according to news reports.
Come with us now as we try to have some fun with the wacky world of Jack Kevorkian.
For a journalist's critical view of Dr. Death, see our report on a New Republic article calling him "a public relations triumph."