Uglydolls and us
Wonder what kind of a rock I have been living under to have missed out on the Uglydoll craze? I can't figure out whether to be excited or ... what?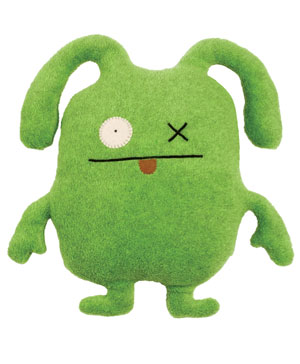 They seem to be little stuffed... uh, things, I guess, "dolls". They have different names like WedgeHead, and Babo and -- the one here is OX.
You go to the site uglydolls.com -- and first you can't get on unless you have the latest Shock or something or other... then you find out they've had all sorts of press, but i didn't find much online. Funny. They've been around for a couple of years. The article from Business Week Online -- no date; it's on the uglydolls site -- calls them "so hideous they're adorable." They've been written up in Time, the Boston Globe... at least says their website.
OK; so they've been around a couple of years. And it seems to me anyway that they speak volumes about, well, difference. But I haven't heard a word about them from the disability culture watch squad.
Here's what I read about OX at one of the site that sells them:

What kind of name is OX? No, not like the animal OX, as in HUG and KISS! How can he hug you with such short arms? OX uses his ears! He's not a very good listener, but he puts his ears to good use ...
What they have in common is... what we might want to call "disability" or at least "deviance from the norm. Either one eye or three ....
This about WedgeHead, who has one eye:


Wedgehead has his eye on you. and he likes what he sees! Finally, someone who understands him! He is very handsome too...can't you tell? What do you mean he looks pitiful? Look at that charismatic posture! Wedgehead understands you too. He sees things the way you see them OK, so he has to stand on his head to do so, but still! He understands exactly what you mean.
Are they disability cool? Has anyone given any thought to that? Or are they its opposite?
This about Tray, who has three eyes:

Tray has three brains! One for each eye, or one per lump. She also sees everything in 3D so you will have plenty to talk about with her. Tray may look a little confused...that may be from each brain ...
What's the scoop on these things, anyway?
Oops, I was wrong. Babo has two eyes. The word on Babo? "What Babo lacks in mind power, he makes up for in love. He's everybody's best friend. ..."
Surely they must be of some use to the disability culture crowd, no?