Disabled Canadians outraged at discriminatory sentence
Murder of disabled daughter draws 1-year sentence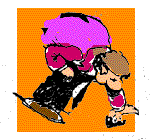 Canadian disability rights advocates expressed shock and outrage at the Dec. 1 sentencing of Robert Latimer, who killed his severely disabled daughter with a lethal dose of carbon monoxide in 1993. Latimer was sentenced to just one year in prison after a second trial when the man was was once again convicted of second-degree murder.
Such verdicts normally carry a mandatory life prison sentence, without a chance for parole for 10 years. In this case, the jury recommended parole after one year because it was a "mercy killing."
Latimer killed his 12-year-old daughter with carbon monoxide poisoning in 1993. He acknowleges that, but insists it was "act of love" to put his daughter, who had cerebral palsy, "out of her pain." "She could not walk, talk or feed herself, and weighed less than 40 pounds" wrote one news account when the media circus began again last fall. "She had numerous operations on her back, hips and legs."
"There should be some lenience here," said juror Carolyn Huber. "Robert Latimer didn't commit murder with malice, he did it to end the pain she was in."
Latimer was first convicted of second-degree murder in 1994. That time, Canada's Supreme Court ordered a new trial because, it said, prosecutors had improperly surveyed prospective jurors on their views about "mercy killing."
The disabled community in Canada has been "staggered at the outpouring of public support for Robert Latimer" in the past few years, said Canadian disability advocate Mark Pickup. "Canadians donated thousands of dollars to a Robert Latimer trust fund; thousands signed petitions calling for a reduced sentence. The Canadian Civil Liberties Association asked the federal Justice Minister to revoke Latimer's sentence."
Murder of non-disabled children "always evokes nationwide outrage," wrote Cheryl Eckstein of the Compassionate Healthcare Network, referring to the 1994 publicity surrounding Susan Smith who drowned her two children. "Smith received a life sentence with no chance of parole until 2024"; the convicted Latimer "has spent only one day in jail."
"It was Tracy who was on trial, not her father," said another advocate.
Still others wonder why there's been so little questioning of the medical procedures the family was forcing Tracy to undergo. News accounts, they say, suggest the girl was relatively stable and happy before doctors started operating on her to "correct things" and wonder if it was the surgeries rather than the cerebral palsy that ruined Tracy's life. This, they say, has never been brought into the public discussion. The New York Times described Tracy as being "in agony" after the operations.
"Such widespread support for the killing of a handicapped child was like a slap across the face," Pickup wrote. " We, the disabled of Canada, the imperfect, heard loud and clear that we are worth less than healthy citizens."
The sentencing "lends support to the notion that killing a person with a disability is different than killing anyone else," says Hugh Scher of the Council of Canadians with Disabilities. "Disability cannot be allowed to become a factor in how we judge the actions of the murderer. The sentence must be appealed," said the CCD's Pat Danforth.
---
Why not just tell the doctor 'no'?
News accounts say that, to "fix" Tracy Latimer's cerebral palsy, surgeons
cut her tendons and muscles at age 4
forced her to stay in a body cast for nearly 2 years
cut her tendons and muscles (again) at age 9
inserted rods in her back

Surgeons planned still more butchering; Latimer said frankly that he'd killed Tracy to avoid her having another painful operation.