Events for Staring Back: The Disability Experience from the Inside Out
Thursday, October 23, 7:30pm at Barnes & Noble in Chelsea, 675 6th Ave. At W. 22nd Street, New York City; Reading will be Kenny Fries, Stephen Kuusisto, Raymond Luczak, Katinka Neuhof, and Tom Savage.
Friday, October 24, a symposium hosted by University of Minnesota, Minneapolis. Symposium includes a reading featuring Johnson Cheu, Anne Finger, Kenny Fries, Lynn Manning and Susan Nussbaum.
Monday, October 27, 7:30 pm at Unabridged Bookstore, 3251 N. Broadway, Chicago, IL. Reading will be Mike Ervin, Kenny Fries, and Susan Nussbaum.
Thursday, October 30, 7:30pm at The Odyssey Bookshop, 9 College St., South Hadley, MA. Reading will be Joan Aleshire, Kenny Fries, Emma Morgan, Edward Nobles, and Margaret Robison. Event co-sponsored by Stavros Center for Independent Living and The Inclusiveness Program at Mt. Holyoke College.
Thursday, November 6, 7:30pm at Borders in Westwood, 1360 Westwood Blvd., Los Angeles, CA 90064. Reading will be Victoria Ann Lewis, Doris Baizley, Kenny Fries, and Lynn Manning. Event co-sponsored by Other Voices, Mark Taper Forum.
Friday, November 7, 7:30pm, at Black Oak Books, 1491 Shattuck Ave., Berkeley, CA. Reading will be Anne Finger, Kenny Fries, Nancy Mairs, Mark O'Brien, and Joan Tollifson.
Monday, November 10, a symposium hosted by San Francisco State University, 1600 Holloway Ave., San Francisco, will include reading and panel featuring Victoria Ann Lewis, Anne Finger, Kenny Fries, Nancy Mairs, and Lynn Manning.
Monday, November 10, 7:30pm at Modern Times Bookstore, 888 Valencia, San Francisco. Reading will be Marcia Clay, Kenny Fries, Nancy Mairs, Joan Tollifson, and Jean Stewart.
Thursday, November 20, 7:00pm at Boston Self Help Center, 18 Williston Rd., Brookline, MA. Reading will be Kenny Fries. Event co-sponsored by Brookline Booksmith.
<!ALL COPY GOES HERE>

READING

Book Reviews

Inside the disability experience
Review by Mary Johnson
Staring Back: The Disability Experience from the Inside Out. Edited by Kenny Fries. 414 pages. New York: Plume $15.95 softcover.

Kenny Fries has been prolific lately. After publishing two books, Anesthesia, a book of poems (Advocado Press), and Body, Remember; A Memoir (Dutton), an excerpt of which was published in these pages last January, he's now compiled an anthology of writing by disabled people: Staring Back: The Disability Experience from the Inside Out.

Fries writes, "Throughout history, those who live with disabilities have been silenced by those who did not want to hear what we have to say. We have also been silenced by our own fear. . . . Now we are staring back."

In Staring Back we find both writers familiar inside the disability movement and writers not known especially for embracing movement issues or even being particularly aware of the disability movement. But if we pay attention, we discover that these latter folks may be becoming an emerging genre of writers: those who might come to see the disability movement after all, although perhaps they don't yet. Fries' anthology gives us both writers well known in book circles and writers never before published, as well as those of us who have been self published or published in tiny disability presses. Readers will find Nancy Mairs, Ved Mehta, Adrienne Rich, Stanley Elkin, Andre Dubus, Leonard Kriegel and John Hockenberry, but they'll also encounter poets Margaret Robison, Johnson Cheu and Nancy Scott, playwright Susan Nussbaum, as well as Mike Ervin, Anne Finger and Mark O'Brien. All here in under the covers together. And that makes for very interesting reading.

It's not a volume to be read straight through, as this reviewer did, but to be sampled, re-visited. If one does read it straight through, the old paradigm shift from "medical model" to "social construct" can be seen doing its thing -- shifting: from writers who focus on their lives as affected by their disabilities (by their body's differentness, changes, inconvenience, and yes, sometimes, agony and suffering) to writers focusing on how they're viewed in society. To me, it was these writers who brought the most enjoyment.

In Mark O'Brien's "The Unification of Stephen Hawking," we hear a woman standing beside Hawking asking O'Brien "whether seeing Dr. Hawking gave me hope."

"This struck me as an awfully stupid question," writes O'Brien. "Hope for what? Could Dr. Hawking change my life, make me walk, get me a lover? I tried to think of a polite way to answer her. . . . I just didn't want to get sucked into being cast as Spokesperson for the Disabled in a dreary story headlined "Disabled Inspired by Dr. Hawking."

Joan Tollifson writes in "Imperfection is a Beautiful Thing" that "I wanted to be normal. . . . I avoided other disabled people, I refused to see myself as part of that group, I held a great deal of pain and rage inside." Later, on the advice of her therapist, Tollifson joins a group of disabled women. "I hated the idea, but to my surprise, they were marvelous, dynamic women. They shared so many of what I had always thought were my own isolated, personal experiences that I began to realize that my supposedly private hell was a social phenomenon."

This kind of perception, not new anymore to those of us in the disability community, is still not widely recognized outside our own culture. As Fries perceptively notes in his introduction, in most literature, even today, "The reality of living with a disability is not depicted, but disability becomes a stand-in, a metaphor, for the social outcast, who is marginalized, misunderstood." Maybe this is to be expected in a society where the "medical model" of disability is still firmly ensconced, "where cure and eradication of difference are the paramount goals" -- which, Fries adds, "puts the blame squarely on the individual when a physical impairment cannot be overcome."

"When the only choices deemed viable -- kill it or cure it -- are choices that would erase the disability," adds Fries, "what does this say about how society values disabled lives?" This anthology begins to let us see at least some of the answer to that question. It should be required reading in any course on disability culture.

Reading Staring Back gave me an exhilarating feeling: what a fine body of work is being produced by writers dealing with the stuff disability brings into their lives! But with that came the sad realization that this work has by and large not been seen for what it is, that it continues to be the reporting of "an experience which throughout history has been marginalized or co-opted, if not ignored." The paradigm is trying to shift, but it's slow.

"A lot has happened during the seven years since I first began to write about my experiences living with a disability," writes Fries in the Introduction. He tells readers of his discovery "that I was not alone in my struggle to give voice to the disability experience. . ." Fries sees Staring Back as part of "an ongoing effort to bring the lives of those of us who live with disabilities closer to the center" of our culture. Let's hope so! When that effort bears fruit, maybe a book like this won't find its publisher feeling the need to add "health" to the list of categories by which it will be catalogued in libraries, but will feel it sufficient to let it be categorized simply as "cultural studies" -- which it is.
Mary Johnson is editor of Ragged Edge. Her e-mail address is editor@raggededgemagazine.com.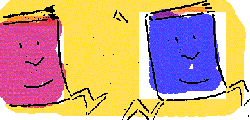 Unnecessary Traps
Review by Cal Montgomery
The Bone Collector, by Jeffrey Deaver. 421 pages. New York: Viking Penguin, $22.95.
I'm trying to explain to my imaginary friend Clarence why I don't agree that Jeffrey Deaver's The Bone Collector is, as he puts it, "a great argument for physician-assisted suicide." He seems to think I'm ignoring the obvious. "The guy has no quality of life," he says of protagonist Lincoln Rhyme. "He's never going to get any better, he wants to die, and he needs a doctor to do it."
"Okay," I acknowledge. "Rhyme is a quadriplegic. And he wants to die, and he wants a doctor to help him do it. But I don't think he makes a good case for physician-assisted suicide."
"No?" asks Clarence. "Why not?"
Call Clarence a victim of my undergraduate work: too much philosophy, too many explorations of ideas in the form of dialogues. While other imaginary friends are permitted to revel in the pleasures they were created to enjoy, Clarence is employed -- reluctantly and without remuneration -- as one of my partners in endless discussions. He helps me sort out my thoughts. He helps me to understand.
"Why not?" he asks again.
"Well, Rhyme . . ." I hesitate, trying to frame my thoughts. "He's one of the most trapped characters I've encountered in a long, long time."
"Yeah, yeah, I know. 'Now, Rhyme is frozen in place -- permanently,' " Clarence chants, picking the book up and reading from the dust jacket. "'An accident on the job left him a quadriplegic who can move just one finger, a great mind strapped to his bed, mulish and sarcastic, hiding from a life he no longer wants to live.'"
I sigh. I wish I had more foresight when creating my imaginary friends. Too late, it occurs to me that talking with Clarence would be a lot less frustrating if he were disabled. "No, that's not what I mean at all," I respond. "I think quadriplegia is about the least of Rhyme's traps."
Clarence eyes me warily, perhaps suspecting that I'm going to yet again shower him with a rant about disability rights. But I plan to stay on topic this time, to try to explain why I think Rhyme's traps are so much more subtle -- and complicated, and pervasive -- than either Rhyme or Clarence seems to understand.
I want to make it clear why I think this book is not a good argument for assisted suicide. Clarence will, I think, have the majority of readers and reviewers on his side on this one, and I want to have my answers ready.
"Well, he's trapped by his own expectations of quadriplegia." I'm speaking slowly, trying to figure out how best to explain this. "This is a guy who can't do a lot of things that he should be able to do; he never learned how to use a lot of the technology that would have let him do things like dial a phone. A guy who, for some reason, doesn't see the point of getting out of his bed and into a wheelchair. A guy who left his wife before she could leave him. Who shut out his friends until they left him alone, too."
"So, you're saying they wouldn't have left?"
I shrug. "They might have. Some probably would. But Rhyme didn't wait to find out. He figured that he couldn't control whether he'd be left behind, so he decided to control how and when. And the PCA, Thom, he stuck around, and it looked to me like Amelia Sachs was planning to, so maybe his isolation is a needless trap."
Clarence looks scornful. "Sachs, Thom -- how can you say Rhyme's isolated?"
"Well, Sachs arrives in his life in Chapter Five," I say defensively. "Which is -- what? -- three and a half years after the injury? And well into his plan to get himself killed. So I don't think she counts."
"Thom," Clarence prompts.
"Yeah, Thom," I say. "Thom won't actually kill Rhyme. He won't pour him a drink when he's already had too much. He gets pissy when he thinks Rhyme's making bad choices in general. But he agrees not to interfere if Rhyme finds another way to get himself killed, and not to revive him if Rhyme starts dying and doesn't want him to. He says -- and this has to be very powerful, coming from what seems like the closest thing Rhyme has to a friend -- he says he wishes he could kill him. Which says to me that Thom thinks Rhyme's right in being suicidal."
"Maybe he is," Clarence says.
I glare at him. He glares back.
"Maybe he is," he says again. "I mean, he's a quad, right? He can't do much of anything anymore."
I mentally demote Clarence from imaginary friend to imaginary pain in the ass, and then once again to imaginary jerk. "Like what?" I say. "Far's I can tell, what Rhyme really loves is working as a cop, doing forensics. And the book is largely about him doing exactly that. He even 'walks a grid' -- goes out and does fieldwork at a crime scene -- toward the end. And this is a guy with money; he can afford all the assistive tech he needs. He's got a steady attendant. He's got marketable skills; he's published a couple of books. He's got a lot more resources than a whole lot of people I know who--"
"'Walks a grid?'" Clarence interrupts.
"Well, yeah, 'rolls a grid' would be more accurate. But that's the point, isn't it? He can walk a grid without moving his legs; he can write a book without picking up a pen. And if he'd bother to learn the technology, he could do a lot more than he can now. What he can -- or could -- do is a lot more important than what he can't."
I'm still glaring at Clarence, wondering whether he's going to bring up the "he'll never piss alone" argument, wondering whether I've managed, in one of our many earlier arguments, to convince him that solitary urination is not as crucial as he seems to think it is. To his credit, he doesn't. "So you're saying," he says instead, with that ever-so-patient tone of voice that means he thinks he's leading me directly into a trap, "that quadriplegia is 'no sweat'?"
"No," I say, trying for the same tone and failing. "Not any more than I think my disability is 'no sweat'. I just don't think it's so inherently awful that if you want to die, everyone around you should say, 'Well, you're a quad. I can see your point. Do you need help dialing Hemlock?' "
"And you think everyone around Rhyme is saying that?"
"As far as I can tell, Rhyme essentially has two ongoing relationships," I respond. "Thom, who pretty much is saying that, and Dr. Taylor, who's trying to argue him out of it. And of course Taylor has an ulterior motive. I only remember two other people knowing about the suicidal thoughts: Sachs, who fails to talk him out of them and then agrees to kill him herself, and the doctor from the 'Lethe Society,' an orthopedic surgeon who's not even qualified to understand Rhyme's physical situation. Since he reads in the paper that Rhyme wants to die and then shows up to do the job, I guess we all know what he thinks about it."
"Yeah, that doctor was a little weird," Clarence acknowledges. "I guess the doctor doesn't fit with his image of a caring general practitioner, patiently working through all the options with his long-term patient before agreeing, reluctantly, to help him out. But of course, Rhyme's own doctors didn't go along with the suicide plan."
I shrug.
"Well, I guess if he can't kill himself . . . then . . . I mean, he has a right." Clarence is starting to sound uncertain.
"Oh, he can kill himself," I assure him. "You remember? He talks about two ways. Refuse to eat -- but that was too uncomfortable -- or light a fire and drive himself in in his wheelchair. Actually, I could come up with a few more methods myself."
Clarence looks at me. "Those don't sound like good ways to die."
"Probably not," I concede. "But don't imagine that Rhyme's ability to commit suicide is dependent upon his ability to find a doctor to help him. He can find deadly methods. Maybe he can't find 'dignified' methods, although a lot of right-to-die supporters don't seem to think using a plastic bag -- which the Lethe doctor is planning to do -- is 'dignified' either. But anyway, I'm still trying to explain to you why I think Rhyme is trapped, and not by quadriplegia."
"He never learned how to use the assistive technology--"
"--Even some of the stuff in his room. So he's a lot more limited in what he can do than he has to be."
"He doesn't get out and do things--"
"--His wheelchair's in the basement. So he's stuck in his house all the time, by his own choice."
"He drove everyone away--"
"--And he'll never know for sure whether they'd have stayed, if he'd let them. Or who else might have been out there -- like Sachs -- if he'd get to know them. So he's probably more alone than he has to be."
"But he's paralyzed. . . ." Clarence blurts out, returning to what he (and apparently Rhyme) still thinks is the main point. I begin to toy with the idea of imagining a nice disabling accident for Clarence -- what would that do to his outlook?
"Yeah," I say. "He's paralyzed. And he thinks this level of dependence, of confinement, of aloneness, of despair all comes from that."
"And you don't?" Clarence sounds doubtful.
"Not this level. Becoming disabled isn't easy, sure. But there's more going on here than just disability. If he weren't disabled and he were acting like that, what would you think?"
Silence.
"Come on, Clarence, if he weren't disabled and he were sitting home all the time, not learning how to do the things that could get him connected to the world, divorcing his wife before she could divorce him, what would you think?"
Clarence sighs. "So what you're saying -- you think that being in a position where you see suicide as the only way out . . . ?"
". . . Can be a trap in its own right. And there's no evidence this guy has fully investigated his other options; this looks to me like an unnecessary trap."
"But he's a . . ." He stops, looks down at the table, shakes his head. "So, what do you think?" It sounds like a genuine question. I consider promoting him back to imaginary pain in the ass.
"When Sachs comes in, in Chapter Five, Rhyme reacts to her very differently than to everyone else. Right? The narrator says . . ." I grab the book and turn to page 56. ". . . here. The narrator says, 'What did register was the look in her eyes. Not the surprise -- obviously, nobody'd warned he was a crip -- but something else. An expression he'd never seen before. It was as if his condition was putting her at ease. The exact opposite of how most people reacted. As she walked into the room she was relaxing.' So, okay. Did you get the impression Rhyme knows any other disabled people? I mean, other than from rehab, other than newly disabled people. Did you get the impression that Rhyme is at all tapped into that group of people who could maybe show him what is involved in living a good life with a disability? I don't. And all the way through the book, I kept wishing he were."
"So, what you're saying," and a hint of the old sarcasm is back, "is that if someone just gave him a subscription to Mouth, everything would be hunky-dory?"
"What I'm saying," I say, "is that as long as everyone sees his primary trap as quadriplegia, and everyone knows there's no cure for quadriplegia, then a glass of brandy, a couple of Seconal, and an iced plastic bag over the head just to make sure sounds like the only way out. But if you start looking for the other traps, the traps Rhyme and Thom and the Lethe doctor all blame on quadriplegia, and you start to see the ways out of those traps, then brandy, Seconal and plastic aren't the only way anymore, and they aren't the best way. And they sure aren't the first way you ought to be trying."
"You don't think he knows what kind of life he could have?"
"Actually, I think he's getting hints all the way through the book. He really seems to enjoy doing forensics work. But he doesn't want to let anybody see that enjoyment; he figures if the Lethe doctor sees him enjoying anything, he'll be rejected as a candidate for assisted suicide. I think that's another trap he's in."
I tap my index finger on the book. "Look, it's like a game he's playing. He doesn't think he wants to live. If he seems happy to other people, even for a little while, after he's disabled, then they're going to be less likely to buy that his unhappiness is due to quadriplegia. And less likely to go along with his getting someone to kill him. So he can't afford to experiment with life as a disabled guy; he can't afford the risk of having people think he's doing okay. It's a--"
"--Trap. I know."
"And at the end," I press on, "when he doesn't kill himself, he isn't saying he won't, he isn't even saying he won't right now. He gets pressured into working on another case, which he can't do if he's dead. I can't help wondering if he's grateful for the excuse to wait a little longer before making an irrevocable decision. I think if that excuse hadn't come up, he would have been trapped into following through."
"And you think that was Deaver's point when he wrote this book?" asks Clarence.
I shake my head. "I have no idea what Deaver's point was. I have no idea what Deaver thinks about this issue at all. Though it's clear he's read a lot of the pro-assisted-suicide stuff. But it's well-written; you can feel the force of the argument for suicide. You can feel the traps closing in all around this character. And you can also stand back and see, if you know where to look, how this guy is seeing only one way out and nobody is showing him any of the other ways. Whether or not Deaver meant it that way, whether or not he even saw what he was doing at all."
"So," Clarence is still skeptical, "you're saying this book is an argument against assisted suicide?"
"No, I wouldn't go that far," I say. "'Course, I'd like to. You know my politics."
Clarence rolls his eyes.
I laugh. "But this book just explores one case -- and a fictional case; Rhyme isn't real. I think all it's fair to say about this book is that it isn't a good argument for assisted suicide. It may look, on the surface, like a pretty solid argument -- and I bet a lot of people are going to read it that way -- but underneath, there's more going on."
Clarence nods. "Maybe. Okay, I'll give you that much. But another time, we're going to have it out about assisted suicide."
"Yes."
Cal Montgomery lives outside Washington, D.C. She can be contacted by e-mail at CKMONT@AOL.COM.

<!ALL COPY ENDS HERE>